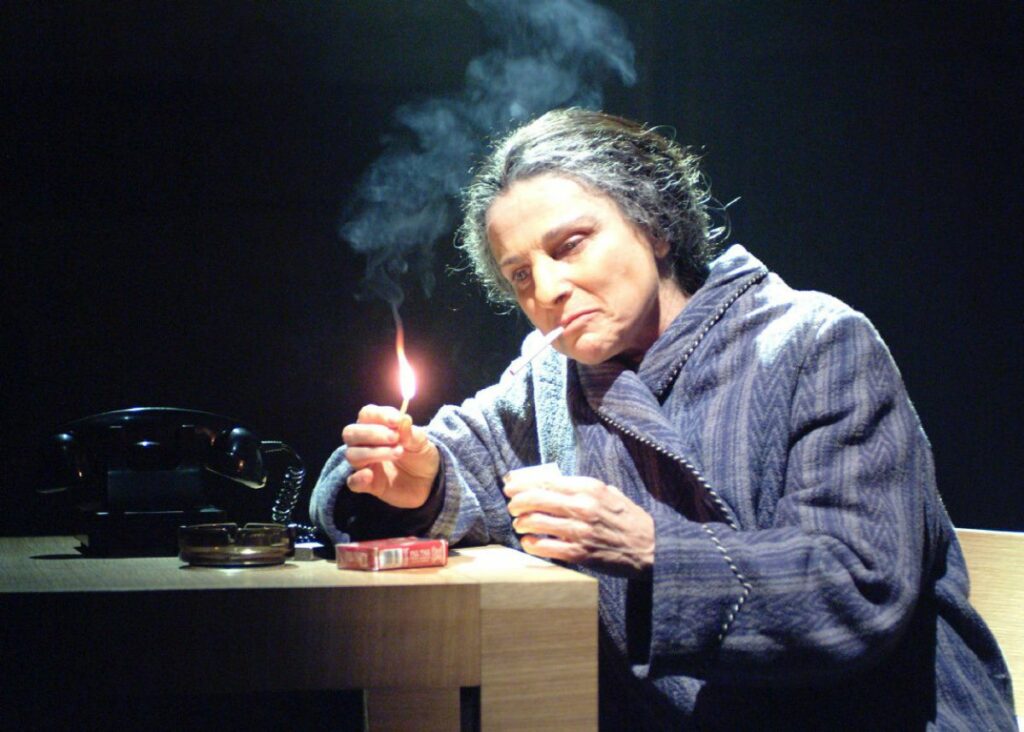 It's a remarkable performance. Fizzing with energy from rousing pride to anguished guilt to irresistibly funny kvetching, small wonder Feldshuh was nominated for a Tony and won a Drama Desk Award for the role she's been playing on and off for 15 years. Golda's Balcony shines; thanks to Feldshuh's captivating performance, but as well to a lively script from William Gibson that snugly interweaves the white-hot tangle of Middle East politics with engaging domestic details.
Those familiar with Tovah Feldshuh's stint as the steely yet humane ruler in The Walking Dead should have no problem recognizing her in Golda's Balcony, even under the prosthetic nose and frazzled wig. Fans of Feldshuh's comedic work on the cabaret circuit and in the TV show Crazy Ex-Girlfriend will also get a kick out of her wisecracking, brilliantly timed portrayal of Israel's legendary Prime Minister.
Sponsored by: Lorne Greenberg
Additional screening on Monday, March 2 at 3:30PM
Please note that as a registered non-profit society, anyone over 18 years of age attending one of our screenings is required to be a member of our society for us to retain our non-profit status.
Please present your VJFC membership at every screening.
Festivals and Awards
WINNER of 20-out-of-20 "Audience Favorite Awards," including: 
Boston Jewish Film Festival

Philadelphia Jewish Film Festival

Los Angeles Jewish Film Festival

Pittsburgh Jewish Film Festival

Tel Aviv Jewish Film Festival

Dallas Jewish Film Festival

 

Austin Jewish Film Festival,

Hong Kong Jewish Film Festival

Charlotte Jewish Film Festival

Honolulu Jewish Film Festival

Palm Beach Jewish Film Festival

New Hampshire Jewish Film Festival

Rockland Jewish Film Festival

 
Film Info
| | |
| --- | --- |
| Year | 2019 |
| Country | USA |
| Director | Scott Schwartz |
| Cast | Tovah Feldshuh |
| Runtime | 96 min |
| Language | English |
| Genre | biography, drama |