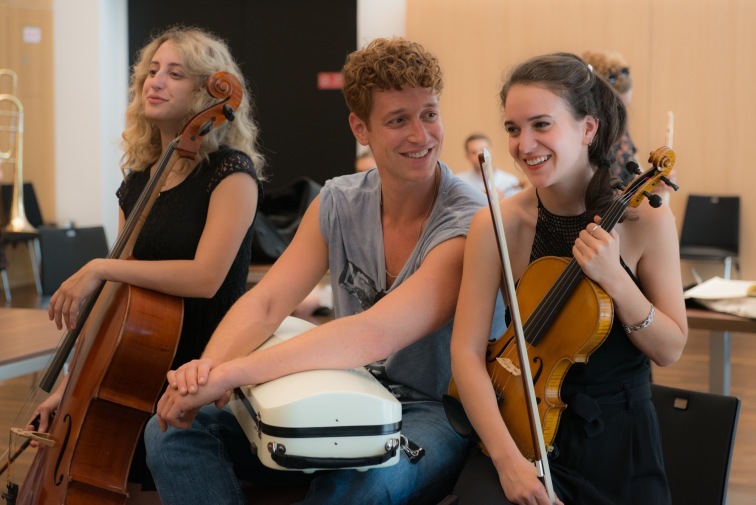 When world-famous conductor Eduard Sporck (Peter Simonischek VJFF 2018) accepts the job to create an Israeli-Palestinian youth orchestra, he is quickly drawn into a tempest; the young musicians from both sides are far from able to form a cohesive team. Lined up behind the two best violinists – Layla, the young Palestinian and Ron the young Israeli, two groups form who deeply mistrust each other, on and off-stage. Will Sporck succeed and make the young people forget their hatred, at least for the three weeks until the concert?
Inspired by Daniel Barenboim's West-Eastern Divan Orchestra, Academy-Award nominated director Dror Zahavi directs this gripping drama as a constantly growing 'crescendo', with rising tension and conflict until the very last frame. Crescendo is a remarkable theatrical movie contributing to the worldwide efforts towards understanding, humanity and peace.
Introduction by Deborah Roitberg from Instruments Beyond Borders
Sponsored by: Ann Ehrcke and Michael Levy, Robert Collum and Lori Albert, Fran Alexander and Alan Wilson, Robyn and Basil Segal, Deborah Roitberg and Jack Amar, Carole and Lucien Lieberman
Please note that as a registered non-profit society, anyone over 18 years of age attending one of our screenings is required to be a member of our society for us to retain our non-profit status.
Please present your VJFC membership at every screening.
Festivals and Awards
Audience Award- Festival of German Films Ludwigshafen (Germany), 2019
Gershon Klein Film Award for "Best German Film with Jewish Issue" - Jewish Film Festival Berlin & Brandenburg (Germany), 2019
Film Info
| | |
| --- | --- |
| Year | 2019 |
| Country | Germany |
| Director | Dror Zahavi |
| Cast | Peter Simonischek, Daniel Donskoy, Sabrina Amali, Bibiana Beglau, Mehdi Meskar |
| Runtime | 106 min |
| Language | German w/English subtitles |
| Genre | drama, music |