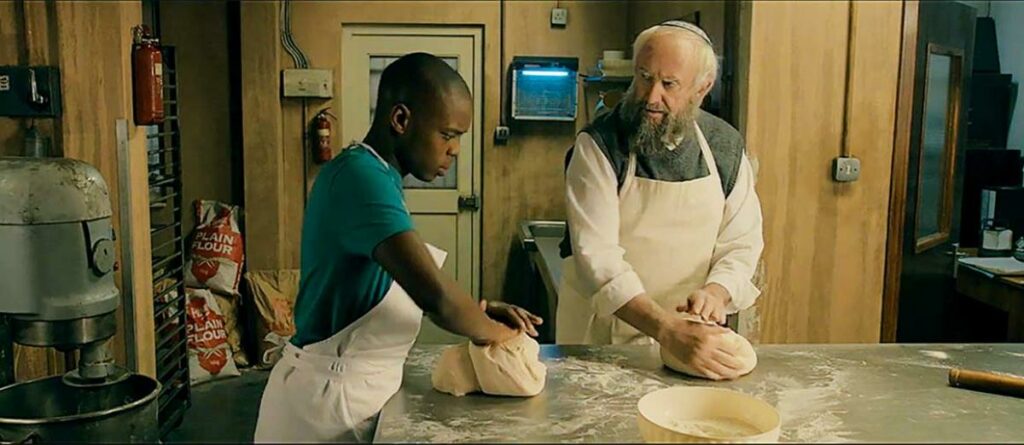 Sponsored by:
Ed and Susan Kroft
Audrey Mehler and David Paperny
Shuli Ben-Moshe

Curmudgeonly widow Nat Dayan (Jonathan Pryce – Game of Thrones, Woman in Gold) clings to his way of life and his livelihood as a Kosher bakery shop owner in London's East End. With a dwindling clientele and the pressures of encroaching big box stores, Nat reluctantly enlists the help of teenager Ayyash who has a secret side gig selling marijuana to help his struggling immigrant mother make ends meet. When Ayyash accidentally drops his stash into the mixing dough, the challah starts flying off the shelves and an unlikely friendship forms between the old Jewish baker and his young Muslim apprentice. Dough is a warmhearted, humorous story about overcoming prejudice and finding redemption in unexpected places. Selected as the Opening Film of the prestigeous San Francisco Jewish Film Festival, Dough has gone on to become the phenomenon of 2015 selling out at virtually every single screening so far this year.
Please note that as a registered non-profit society, anyone over 18 years of age attending one of our screenings is required to be a member of our society for us to retain our non-profit status.
Please present your VJFC membership at every screening.
Festivals and Awards
From British Academy Award winning director John Goldschmidt
Toronto Jewish Film Festival 2015
San Francisco Jewish Film Festival 2015: Opening Film
Film Info
| | |
| --- | --- |
| Year | 2015 |
| Country | UK, Hungary |
| Director | John Goldschmidt |
| Cast | Jonathan Pryce, Philip Davis, Ian Hart, Pauline Collins |
| Runtime | 94 min |
| Language | English |
| Genre | comedy, drama |