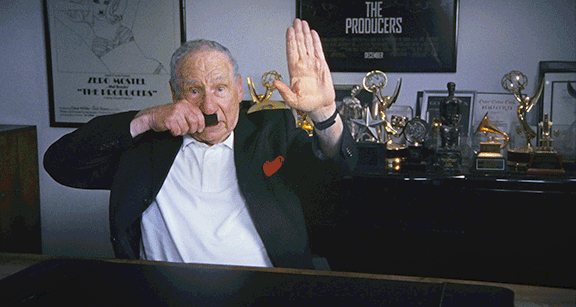 Are we allowed to make jokes about the Holocaust? In this outrageously funny and thought-provoking film, director Ferne Pearlstein puts the question about comedy's ultimate taboo to legends including Mel Brooks, Carl Reiner, Sarah Silverman, Gilbert Gottfried, Alan Zweibel, Harry Shearer, Jeff Ross, Judy Gold, Susie Essman, Larry Charles, Jake Ehrenreich, as well as Holocaust survivors themselves.
The interviews are woven together with a vast array of material ranging from "The Producers" and "Curb Your Enthusiasm," to clips of comics such as Louis CK, Joan Rivers, and Chris Rock. THE LAST LAUGH offers fresh insights into the Holocaust, our own psyches, and what else is or isn't off-limits in a society that prizes freedom of speech. The film also disproves the idea that there is nothing left to say about the Holocaust and opens a fresh avenue for approaching this tragedy.
Star-studded, provocative and thoroughly entertaining, THE LAST LAUGH dares to ask uncomfortable questions about just how free speech can really be, with unexpected and hilarious results that will leave you both laughing and appreciating the importance of humor even in the face of events that make you want to cry.
---
• Please note that as a registered non-profit society, anyone over 18 attending one of our screenings is required to be a member of our society for us to retain our non-profit status.
• Please present your 2017 VJFC membership at every screening. (Available for purchase at the door. $2)

Booking
Bookings are no longer available for this event.
Film Info
| | |
| --- | --- |
| Year | 2016 |
| Country | USA |
| Director | Ferne Pearlstein |
| Cast | Mel Brooks, Carl Reiner, Sarah Silverman, Gilbert Gottfried, Alan Zweibel, Harry Shearer, Jeff Ross, Judy Gold, Susie Essman, Larry Charles, Jake Ehrenreich, Louis CK, Joan Rivers, and Chris Rock |
| Runtime | 88 min |
| Language | English |
| Genre | comedy, documentary |