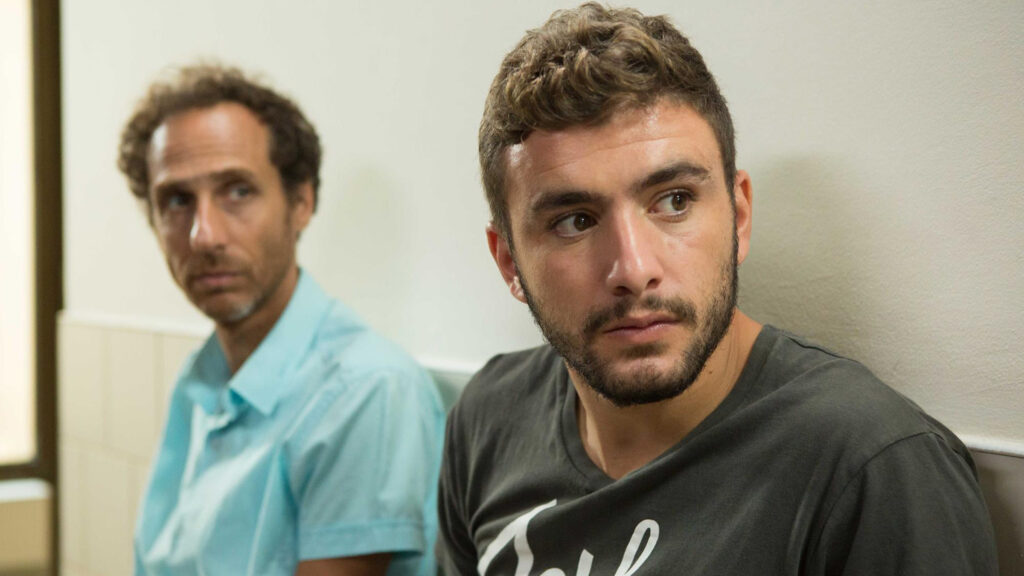 Pigumim
Asher is a young man trapped in emotional turmoil. At school, he is no star pupil, fighting with teachers and struggling through most of his classes – except for literature. Rami, the literature teacher, connects with Asher and challenges him in a way no one else has – daring him to test his limits. At home, Asher's ailing father feels he is destined to inherit the family scaffolding business. Milo strives to impress upon his son the value of honest hard work and the honor inherent to his simple life. Rami is torn between family obligation and personal aspirations. The latest offering from Israeli director Matan Yair draws from his own nine-year experience as a literature teacher, and the impact he hopes to have on future generations in the world beyond the schoolhouse walls.
Sponsors
Shuli Ben-Moshe
Karen James
Please note that as a registered non-profit society, anyone over 18 years of age attending one of our screenings is required to be a member of our society for us to retain our non-profit status.
Please present your VJFC membership at every screening.
Festivals and Awards
Winner: Best Israeli Feature - Jerusalem Film Festival, 2017
Winner: Best Actor (Matan Yair) - Jerusalem Film Festival, 2017
Winner: Best Cinematography, Honourable Mention - Jerusalem Film Festival, 2017
Winner: Special Mention - Singapore International Film Festival, 2017
Nominee: Best Asian Feature - Singapore International Film Festival, 2017
Winner: Best supporting Actor (Ami Smolartchik) - Israeli Film Academy Awards, 2017
Nominee: Best Film - Israeli Film Academy Awards, 2017
Nominee: Best Dirrector - Israeli Film Academy Awards, 2017
Nominee: Best Screenplay - Israeli Film Academy Awards, 2017
Nominee: Best Editing - Israeli Film Academy Awards, 2017
Nominee: Best Casting - Israeli Film Academy Awards, 2017
Nominee: Best First Feature - Philadelphia Film Festival, 2017
Nominee: Best International Feature Film - Zurich Film Festival, 2017
Film Info
| | |
| --- | --- |
| Year | 2017 |
| Country | Israel, Poland |
| Director | Matan Yair |
| Cast | Asher Lax, Ami Smolartchik, Yaacov Cohen |
| Runtime | 90 min |
| Language | Hebrew w/English subtitles |
| Genre | drama |